AUKTyON 2003 NORTH AMERICA TOUR
Press Release (10 July, 2003, English version)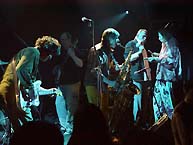 "I was shocked again. The known melodies with a new spirit and feelings seemed to be from outside of this world. And it was a special pleasure for me to hear the new version of good old and beloved songs 'Zima' and 'Oskolki': But after this album I have started to worry about mental state of these people from Auktyon. Nevertheless, it is impressive and very professional work!" - fan's opinion about new album "Eto Mama"
Two years ago, after tragic events of September, against all odds Auktyon managed to come and perform in New York, Boston, and Washington D.C. Since then, the band recorded and released new album – "Eto Mama". Amazingly, all of the musicians were happy about the final product. Such a unanimous response was last heard in regard to the "Chainik Vina".
This fall, the tour will follow somewhat unusual path. In addition to customary New York, Boston, Chicago, Seattle, Los Angeles, and San Jose, Auktyon will visit Toronto for the first time, and is also working on booking concerts in Jersey City and Hoboken, NJ, Providence, RI, Portland, ME, Williamsburg, NY, and Washington DC. More information on those shows will become available soon.
In our previous tours, tickets sold out fast, and a lot of people who wanted to get in, didn't make it to the concerts. We encourage people to purchase tickets in advance, which can be done on the band's website: www.auktyon.com.